Tater Tot Breakfast Bake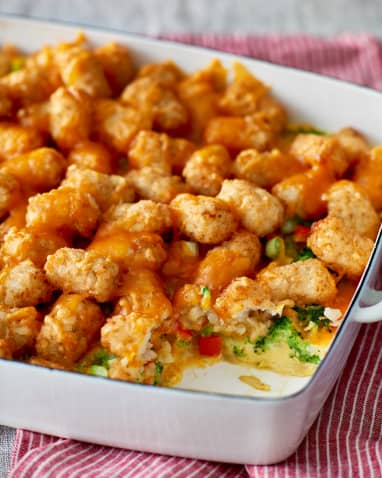 Major Ingredients
Broccoli
Bell Pepper
Cheddar Cheese
Eggs
Half and Half
Frozen Tater Tots
This delicious looking veggie-packed breakfast casserole is sure to jump-start your day. This recipe comes together super quickly, and by using frozen tater tots and broccoli, you can cut the time down to just an hour. This casserole makes a ton, so you're bound to have leftovers. See the full recipe and instructions at TheKitchn.com.
Beer and Bacon Pancakes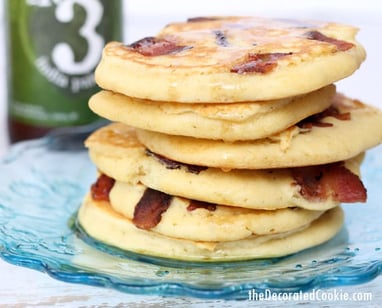 Major Ingredients
Flour
Baking Powder
Sugar
Egg
Beer
Bacon
Beer and bacon? It sounds like a dream. The beer really shines in this recipe, so pick your favorite. With the addition of bacon, the recipe's author suggests adding syrup as the pancakes need a "sweet finish". The recipe is simple, and requires only that you substitute beer for milk in a traditional pancake recipe. For full instructions and ingredients, visit The Decorated Cookie.
Steak and Eggs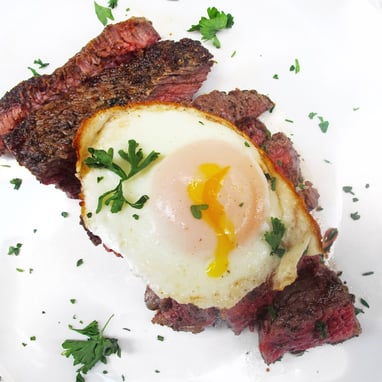 Major Ingredients
Such simple ingredients for this classic breakfast. You can never go wrong with steak and eggs, and this recipe comes together in just 40 minutes. Add a quick side of hash browns or roasted potatoes, and you've got yourself a pretty great meal! See the full recipe and instructions at Ev's Eats.
Crescent Bacon Breakfast Ring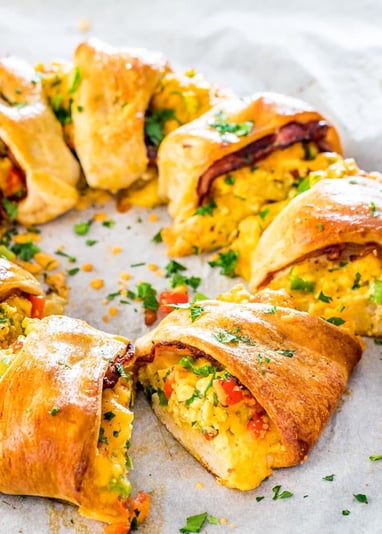 Major Ingredients
Eggs
Bell Peppers
Bacon
Crescent Rolls
Cheddar Cheese
Is there anything better than a warm crescent roll? Yes. A warm crescent roll wrapped around eggs, meat, veggies, and cheese. This recipe is quick and easy, because once the ingredients are assembled, it takes only 20 minutes in the oven. Do you have favorite ingredients in your omelets? You can swap those in instead. Add sausage or onion or mushrooms, or all of the above! You can view the full instructions for this versatile recipe at Jo Cooks.
Country Ham French Toast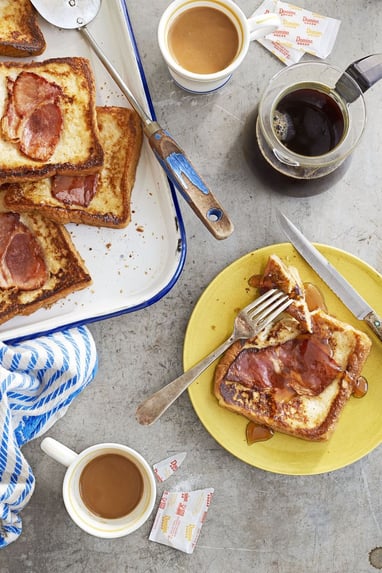 Major Ingredients
Eggs
Milk
Half-and-Half
Maple Syrup
Nutmeg
Vanilla
Sliced Country Ham
Texas Toast Slices
A genuinely delicious mix of sweet and savory, this recipe is sure to get your mouth watering. Like all standard French toast recipes, this one comes together super quick with its dip and fry done in just minutes. Serve it with warm maple syrup, and Dad will remember this breakfast for months to come. See the full recipe and instructions on Country Living.